Cranial Screwtop are a three-piece punk band who play exclusively 1980s pop songs, currently the only specialist covers band of this type in the UK. If you imagine the Aled Jones classic Walking in the Air, played in the style of Motorhead's Ace Of Spades you'll be on the right track to our sound.
Discography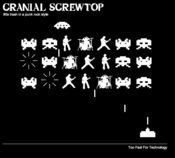 Too Fast For Technology (2006)
Planet earth, Down under, Hazy shade of winter, The swords of a thousand men, Rio, I ran (so far away), Walk like an Egyptian, Crash, Play that funky music white boy, Psycho killer, Hungry like the wolf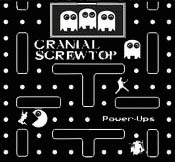 I know him so well, Ben, Don't you want me?, Japanese boy, Dougy Giro, Thorn in my side, New life, Rock me, Amadeus, Walking in the air, Wuthering Heights, Run to you, Stand and deliver
History
Cranial Screwtop was born in 2001 after a conversation between Mark Caban and Dave Caton in Mrs Ben's butty shop one lunchtime when we realised our dreams of becoming punk rock stars was passing us by. We soon roped in Kumar Arepalli and worked our way through a set full of classic punk rock covers with Kumar performing the duties of lead guitar and vocals, Dave on bass and Mark on drums.

Thoroughly enjoying playing together, we soon decided that just covering songs was not enough. A drunken night at FAB Cafe Manchester highlighted just how popular 80s cheese was and hearing Planet Earth over their sound system sparked an idea. Mark found it easier to sing along with the faster tempo than Kumar and so took over as lead vocalist as well as drummer.

Having built up a loyal following around the Northwest of England, Kumar sadly had to leave for pastures new in 2004 and was replaced with Paul Loughrey.

The band continued to gig and embarked on recording an EP. Shortly after recording finished Dave moved in London. Having previously seen the band live, Simon L'Ocean joined as our new bassist and we went back into the studio to record another six songs which, combined with the EP, was released as our debut album in 2006.
Cranial Screwtop continued to play in and around the Northwest until Mongo stepped in to play lead guitar and Screwtop went back into the studio for their second album. Most of 2010 was spent in and out of the studio along with doing the odd live gig, like the Christmas bash at Manchester Academy with Captain Sensible and The Glitter Band. With the album finally released in 2011 we embarked on a handful of promotional gigs, the pinnacle of which was supporting Toyah on her Greatest Hits tour.
And so Screwtop continues to evolve. To be continued...